Destination Weddings
Are you dreaming of a blue sky, crystal clear waters and a white sandy beach on your wedding day? Or perhaps a blanket of snow, fresh winter air and the smell of beautiful pines? Destination weddings are not just for those getting married abroad, therefore if you are travelling anywhere by car, boat or plane, make sure you have your wedding dress folded carefully into one of our Boxed Bridal boxes.
Beautifully decorated in our exclusive vintage pearl design, they come complete with a strong carrying cord, making them very easy and comfortable to travel with. Either Nickie or Amy will fold your wedding dress into her box before you go, so she has little (if any) attention that will be required at your destination. Our travel boxes provide a clear and un-obstructive packing area allowing us to utilise every corner to ensure minimal creasing.
Complying with the majority of major airline cabin restrictions, you can keep your box safe by your side for added peace of mind. If you are travelling by car, space will not be an issue as they are compact and easy to store – much easier than a suitcase! Contact us to discuss your requirements.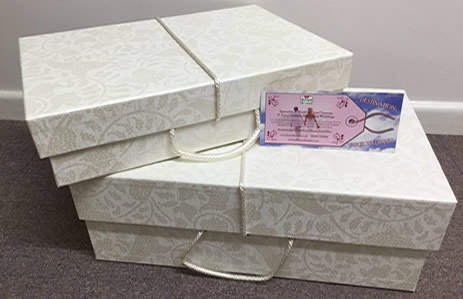 We have two travel box sizes:
£50.00 – Elegant Box
£65.00 – Classic Box
Don't forget we can also clean and/or press your wedding dress beforehand as we know for those brides who like a bargain, a sample or pre-loved wedding dress may need that extra step to ensure she is perfect for your big day! Take a look at our wedding dress cleaning page for more information.
---
"Nickie at Boxed Bridal is fabulous! Getting married abroad in Greece I knew this was the only place I would be going to get my dress packed for flying she cares so much and even noticed a few things that weren't quite right with the dress after it had been altered and arranged for her seamstress to have a look at it. The dress arrived in Greece with barely a crease in it! After getting married, my dress was then cleaned and steamed ready for a UK reception and it looked as good as new. We've just had it cleaned and packed away in a preservation box for storage. Nickie is so genuine and nothing is too much trouble, she even turned my "everything is going wrong" comment into "everything was perfect!"
---